The lovely James Corden has just Tweeted a picture of himself and Rupert in the audience for tonight's The X-Factor...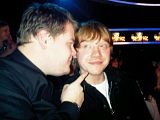 ...I can only assume he is telling him off for supporting Wagner!
UPDATE : and Rupert was one of the celebrity guests on The Xtra Factor, which we have popped up on YouTube, for you...